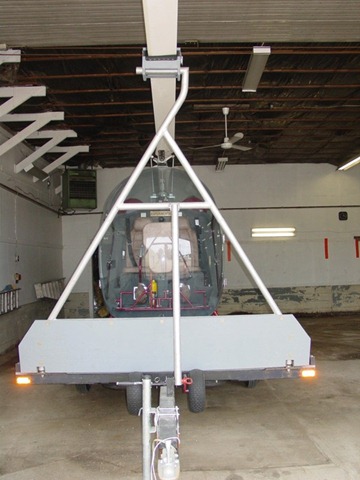 The Safari Heliport trailer is custom made for transporting your Safari or other helicopter. For experienced pilots, landing can be done directly on the cargo bed. You are 15 minutes from fly to drive. Its cargo bed is 8 feet by 16 feet.
Each trailer has 2,500 pounds tandem axle suspension, four wheels and one spare wheel. The trailer is designed to tip forward allowing for the attachment of ramps (included) for manual loading and un-loading. A full width splash guard is located at the front to help protect your Safari from road damage.
Each trailer comes with front and rear blade braces. When the helicopter is secured in place, these blade braces allow you to support blades for travel. No need to remove blades before traveling and none to re-attach when you get there.
Trailer frame and accent areas are painted Black. The balance of the trailer is Grey in color. Highway trailer lighting, tongue jack with caster and ball hitch, with safety chain are included.